Galveston County Fair, Livestock Show, and BBQ Cookoff!
For as long as I can remember (and almost as long as I have been on Earth), the Zimmerman's have competed in that yearly extravaganza, the Galveston County BBQ Cookoff. My aunt and uncle go to great lengths to make the event great fun for all of us, and it I look forward to it every year as a chance to see family, eat some great Texas BBQ brisket, and enjoy boiled crawfish.
In the year 2002, 285 teams (or families) entered the BBQ cookoff. Over a hundred had to be turned away due to a lack of space.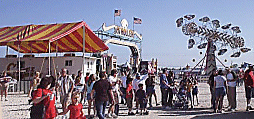 On first arrival, the Galveston County Fair is always the largest and loudest portion of the fair grounds. Rides and silly games played for stuffed toys make for great fare. Here is another picture showing this cool inflated boat for kids.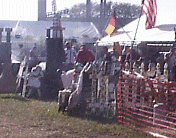 Over on the cookoff grounds, my family's stand is always well decorated by my aunt and uncle. For most of the 80s, 90s, it was notable for the German decorations. Here is a picture of oma and opa. Here are some of the hand-decorated stand-up folks. You can see the grill in the background. It has the words "Party Animals" written on it, a testimony to the age of the grill. Here is a picture of my cousin Trey, wearing the old official apron, and here is my grandpa relaxing with a friend at one of our tables.
Recently, they have begun to change the theme. In 2006, a "BBQ in Jimmy Buffet's Paradise" theme was adopted, and looked great. Here are some photos of the new setup: 1, 2, 3.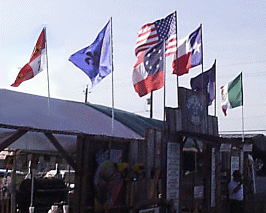 Around the rest of the grounds are the rigs of other teams who believe somehow they can compete with my uncles brisket and sausage. Shown here is one flying the Six Flags. Here is a western-style saloon. Here is an interesting grill indeed! Here is a nice olde double-grill with a Texas decoration. Here is the spot where my great aunt Margaret and her family competes. And here is the booth where all the judging took place.
Another noteable attraction is the Tecate Beer Jalepeno-eating contest. Started in 2003, my old father took the prize in 2004 and 2005. When he was too ill to attend in 2006, my cousin Trey had to step in and take the prize. Here is a photo of him with his 2006 trophy. If you visit the Houston chronicle, and search their 2005-2006 Archives for "Fred Zimmerman", you'll find a great article about it all.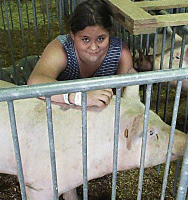 The livestock show is also a main event of the day. Shown here is one of my cousins (Sara) with her prize-winning pig "Onee". Also here were Sara's chickens, and some prize winning bulls, bunnies, chickens, goats, lambs, pigs, turkeys, and more goats!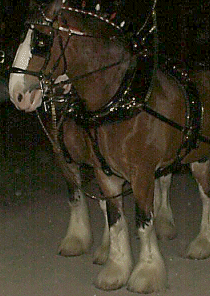 And last is the rodeo, which starts around 8pm in the evening. Before the competition started, there were a couple of shows put on for the crowd. One involved the klydesdale horses shown here, and another involved a horse-riding drill team. Although I didn't get any good pictures, here is an attempt at a picture of a horseman roping a calf.
THE END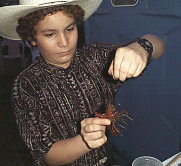 This web page was brought to you by the crawfish. And by Trey, Michelle, her little girl, Aunt Patti, cousins Bambi and Lindsey, and by any other family that would hold still for pictures. If you find anything in here you have questions or comments about, feel free to leave me email right here.&nbsp
To return to my home page, click here.